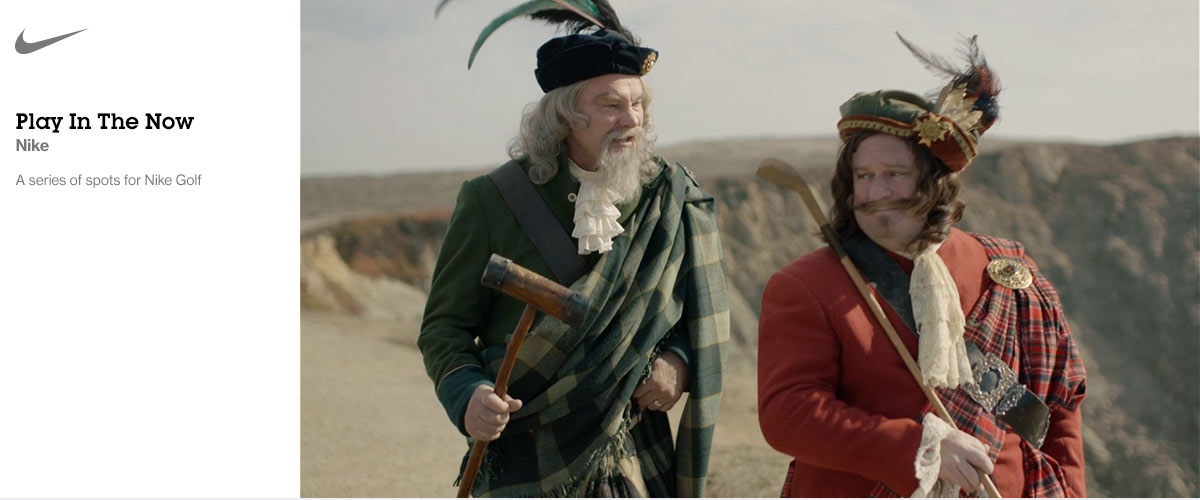 Most golfers find something that works and they stick with it. Even the best player in the world. But rejecting better equipment simply because it's new is dumb. It always has been and it always will be.
Roll Credits
Client: Nike
Agency: Wieden + Kennedy
ECD: Susan Hoffman
ECD: Joe Staples
CD: Don Shelford
CD: Rob Thompson
Copy Writer: Brock Kirby
Art Director: Omid Rashidi
Art Director: Derrick Ho
Broadcast: Jeff Selis
Director: Steve Rogers
Green Police
How do you talk about the green car of the year in a time where everyone is feeling bombarded by the green movement? What if we changed the conversation about being green to one that rings true? Because if there's one thing we can all agree on, it's that being green can be complicated.
The Super Bowl Spot
For Audi "Green Car" we created a new division of law enforcement to show the paranoia and confusion that comes with proper green behavior. The spot consists of several scenarios where people are busted for green infringements. Finally the Audi A3 TDI escapes the stronghold of the Green Police leaving the confusion behind.
Game Day Teasers
We created these two news clips and a unique man on the street perspective of a bust as a way to introduce the Green Police before the main event.
The PSAs
Alongside the teasers, we created two PSAs and an interactive quiz to teach and challenge viewers about proper green etiquette.
Green Police Interactive Quiz
In the interactive quiz, users dictate the narrative of the video by answering a series of questions. This video is an example of one user's journey.
Roll Credits
Client: Audi
Agency: Venables Bell and Partners
ECD: Paul Venables
ACD: Erich Pfiffer
Art Director: Omid Rashidi
Copy Writer: Ashley Billings
Design: Omid Rashidi
EP: Craig Allen
Producer: Mandi Holdorf
Production Partner: Hungryman
Director: Bryan Buckley
Awards
Emmy Nomination
Outstanding Commercial
New York Festival
Bronze world medal
Cannes Lions
Shortlist
Elle Magazine
Gold Award
Some Number
Total Adult Impressions delivered
750 million (as of 8:30 a.m. est. 2/8/10)
Unique Visitors to Audiusa.com
on Super Bowl Sunday
80,598 ( vs. 77k in 2009)
Increase in Traffic to A3 TDI Model Page
396%
USA Today Ad Meter
#6 (out of 64), Highest automotive brand
(12th in 2009, 42nd in 2008)
Yahoo Super Bowl Ads - 1 of 16
"Best of 2010"
Viral Video Chart (on 2/8/10)
#2
Press Highlights
Ad Age
Bob Garfield of AdAge puts Audi among top advertisers saying, "The Green Police, overzealously tracking your carbon footprint. Very funny, for all the obvious reasons. And the Audi turbo-diesel is a fine-looking Get Out of Jail Free car(d)."
CNET, "Audi Wins Super Bowl."
"As Audi introduced such crimes as the 'compost infraction' and 'incandescent light bulb possession,' the company's image rose high above that of those who tried to use crudity, underpants, more underpants, bad (as in unfunny) sexist jokes, animals, children, more animals and a college quarterback trying to tackle his mother to further their cause."
Forbes
"A sophisticated, lightly humorous way to get across the idea of the low-carbon emission diesel engine," says Bill Oberlander, chief creative officer of Cossette New York
Edmunds
Audi 'Green Police' Slays in Super Bowl Ad Wars: "Lots of pre-game chatter about which automaker would come out on top..., but once the last of the confetti settled, Audi stood clear from the pack." - Bill Visnic, Senior Editor
New York Post, "Brilliant"
"I thought (the Audi ad) was brilliant," said Richard Kirshenbaum, of Kirshenbaum Bond Senecal Partners. "The concept of being arrested for added consumption, it addressed larger issues in society."
NPR, Living on Earth
"The Green Police have landed (Audio) "
New Amsterdam Vodka
TV :60
Life should be a celebration and going out should be your civic duty. Add to the mix a desire for stature, ownership and pride. For millennials, it doesn't get much more primal than that.
Roll Credits
Agency: MUH-TAY-ZIK | HOF-FER
ECD: John Matejczyk
CD/Art Director: Diko Daghlian
Executive Producer: Michelle Spear
Producer: Jake Grand 
Copy Writer: Josh Bogdan
Copy Writer: Omid Rashidi
Art Director: Omid Rashidi
Account: Carolina Cruz
Production: PARTIZAN
Director: Nima Nourizadeh
DP: Ken Seng
Editor: Kim Bica / Arcade Edit
Producer: Ali Reed/Jonlyn Williams
Colorist: Sean Coleman / CO3
Music: Fitz and the Tantrums
Graphics: MK12
Finishing: BRICKYARD VFX
Photographer: Mark Hunter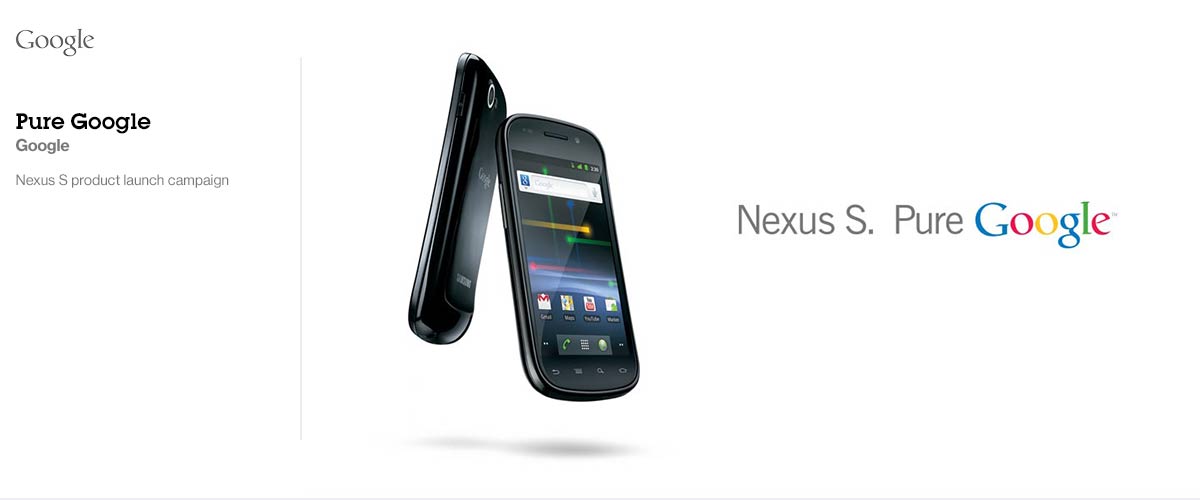 Pure Google
Google said they would never make another phone. And then they did. A phone free of carrier malware and third party apps that tripped up basic functionality. We focused our campaign on the most amazing feature of the phone, the freedom of a 'Pure Google' experience.
Gingerbread has landed
Nexus S Teaser Video
Google was planning on releasing its next version of the Android operating system alongside the Nexus S. Per googleplex ritual, a giant gingerbread was to be erected in honor of the new OS. This video is shot and narrated by a fanboy as he sneaks on campus and captures the unveiling of the giant gingerbread man. The video was shot, edited and on Tech crunch almost immediately.
Alo Alo
Nexus S launch video
We shot the whole spot through the POV of users looking down on their phone as they walk, dance, fly threw different environments. The POV was ideal for putting the phone front and center and allowing viewers to experience the whole thing from a user's perspective. Each environment showcased a particluar app or feature of the phone as the sidekick who can take you where you want to go and then get out of the way as you go about enjoying life.
Nexus S Banners
(Video) Google loves their banners. Here are three of my favorites from a dozen we created for the Nexus S launch. And yes, we're proud to have produced these within the 40K size limitation.
Roll Credits
Client: Google
Agency: Muh-tay-zik | Hof-fer
ECD: John Matejczyk
CD: Diko Daglian
Art Director: Omid Rashidi
Copy Writer: John Matejczyk
Copy Writer: Jeff Kirchner
Copy Writer: Tylor Sharkey
Design Lead: Omid Rashidi
Designer: Ben Keyser
EP: Michelle Spear
Producer: Kelli Bratvold
Producer: Jeremy Summers (Web)
Producer: LIndsey Fa (Gingerbread)
Producer: Michelle Morris (Alo Alo)
Production Partner: 1st Ave Machine (Alo Alo)
Director: Asif Mian (1st Ave Machine, Alo Alo)
Director: Paul Trillo (Gingerbread teaser)
Production Partner: Auto Fuss (Animation)
Production Partner: MymyStar (Banners)
Photography: Stan Musilek (Product Photography)
Friendly Competition
TV :30
A 30 second commercial for Audi that embraces the little bouts of competition we take part in everyday. The spot originally aired during the Olympics.
Roll Credits
Client: Audi
Agency: Venables Bell and Partners
ECD: Paul Venables
ACD: Erich Pfiffer
Art Director: Omid Rashidi
Copy Writer: Ashley Billings
Design: Omid Rashidi
EP: Craig Allen
Producer: Emily Moore
Production Partner: Park Pictures
Director: Lance Acord
HBO's Deadwood Print
Above: Deadwood Grave Yard / Kelly award winning Print ad.
Right: Deadwood / Shot Glass / Print
Roll Credits
Client: HBO
Agency: Venables Bell & Partners
ECD: Greg Bell
Art Director: Omid Rashidi
Art Director: Crystal English
Copy Writer: Paul Johnson
Photographer: David Emmite
Post Production: XYZ
Awards
Kelly Awards
Outstanding Print, 2008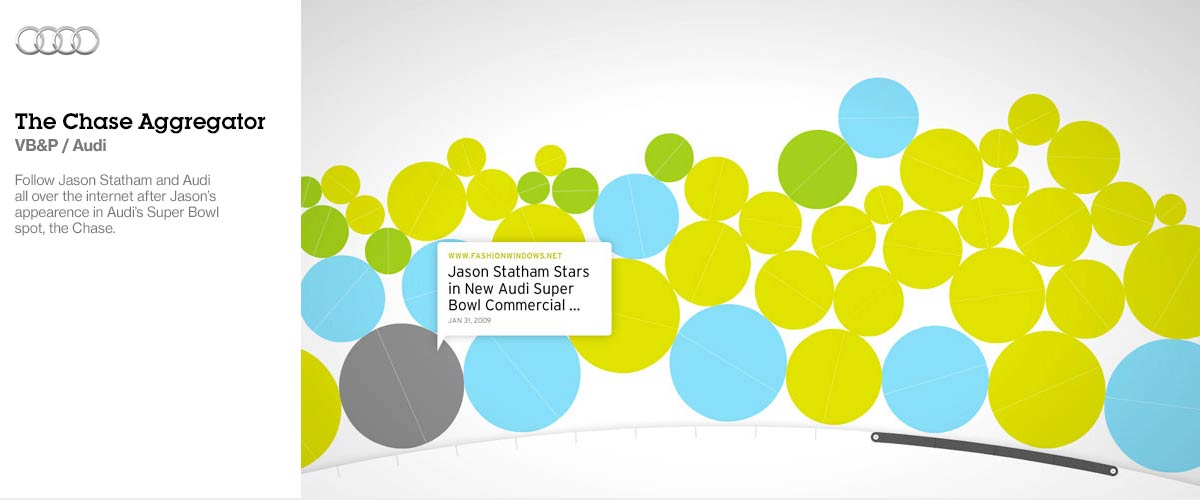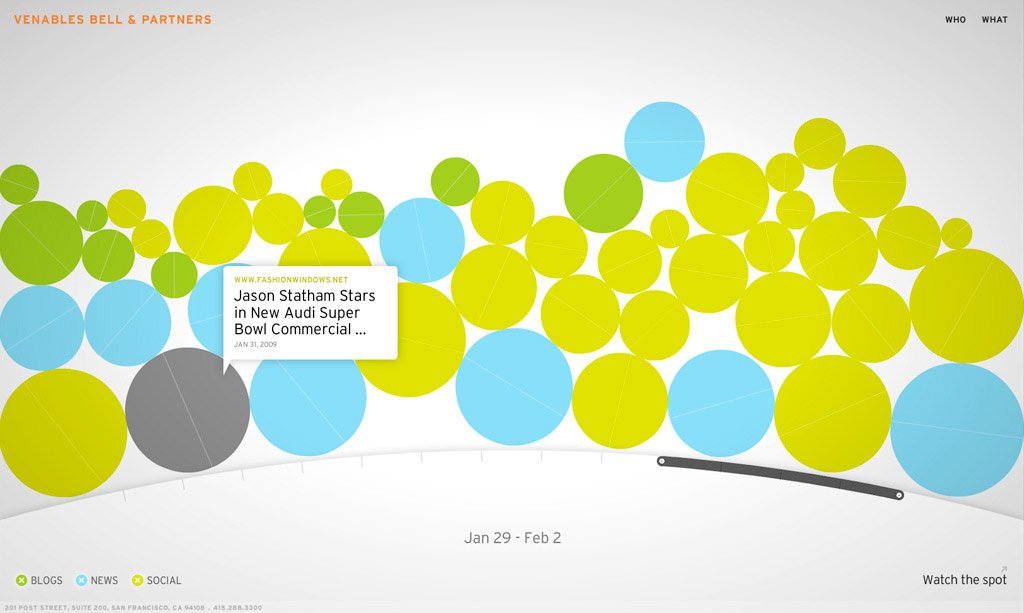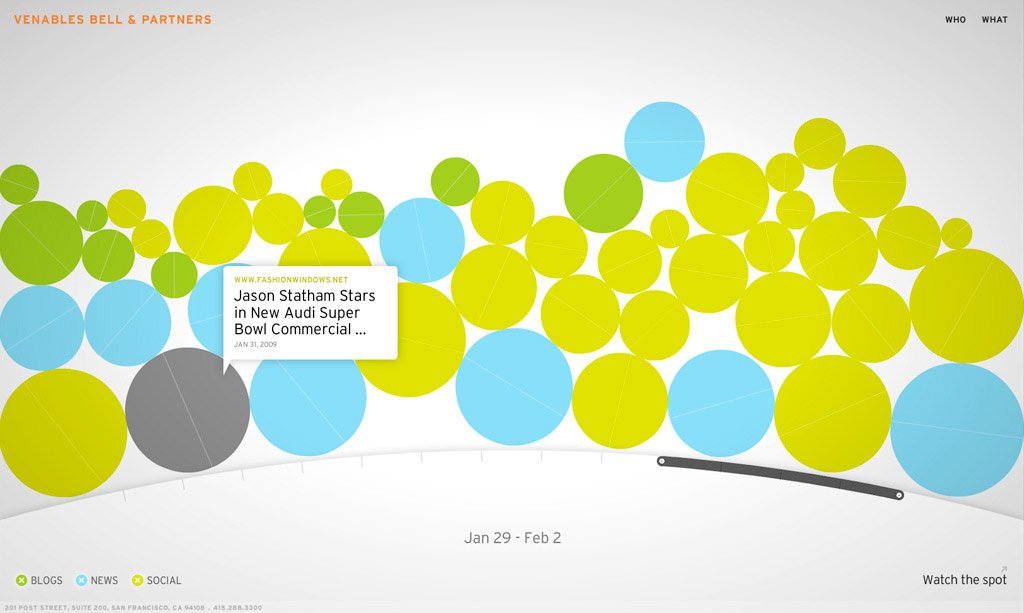 VB&P Aggregator

VB&P had a terrible website up in 2010 and we needed a quick solution to entertain users who would be visiting the site as a result of our star-studded Audi super bowl commercial, the chase featuring everyone's favorite getaway driver, Jason Statham.
We created a control panel through which users could track chatter about the spot, Audi and Jason Statham as buzz surrounding the spot made its way around the world.
The Aggregator tracked memes relating to the Audi spot and represented each occurrence with a ball that dropped into a dynamic timeline environment. We created simple controls that would be fun to interact with like the timeline scrubber that allowed users to see a span of time or focus on a particular day.
Roll Credits
Client: Venables Bell and Partners
Agency: Venables Bell and Partners
ECD: Paul Venables
CD: David Kim
Art Director: Omid Rashidi
Copy Writer: Paul Venables
Design: Omid Rashidi
Production Partner: Instrument
Press
Creativity
(Creativity-online.com)
Featured Work, Feb 4, 2009
Father's Day Commercial
Tiny Prints
Mother's Day Commercial
Tiny Prints
Responsibilities
Art director from inception to completion, including design of shoot assets, title cards and post production.
Roll Credits
Client: Tiny Prints
Agency: Muh-tay-zik | Hof-fer
ECD: John Matejczyk
Art Director: Omid Rashidi
Art Director: Sorenne Gottlieb
Copy Writer: Melissa Blaser
Design: Omid Rashidi
EP: Michelle Spear
Producer: Kelli Bratvold
Production Partner: Bad Company
Galeria de la Raza
Omid Rashidi / Design director / 2003 - 2006
Although it doesn't always keep the lights on, there's no better way to learn the ropes as you're starting in the business than with a non profit client. They're always grateful for your time and efforts and once you understand each other, the work forms naturally and you see the results right before your eyes.
Every new show was an opportunity to interpret the concept into the marketing campaign. Non profits add the extra challenge of tight budgets. In our case we let our nearly empty pockets dictate the aesthetic of the brand and stretched what everyday copier and print making techniques could do.
Pachanga
Auction Poster and Catalogue
Digital Mural Project
Commissioned by Galeria de la Raza to honor the legacy and work of César Chávez. More information about the piece and the on going project can be found here.
Que pasa Galeria
Quarterly Mailer